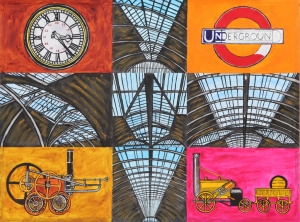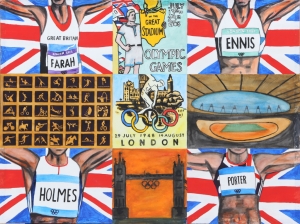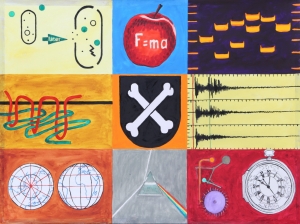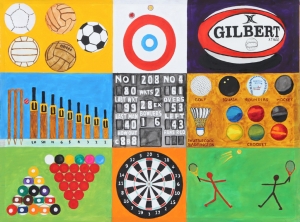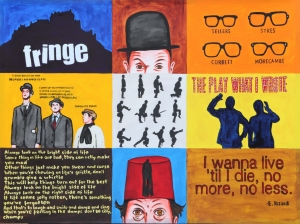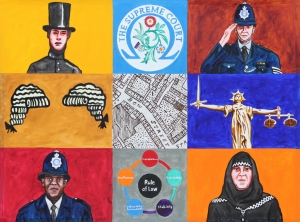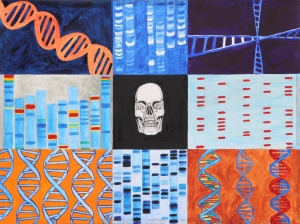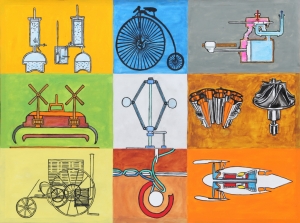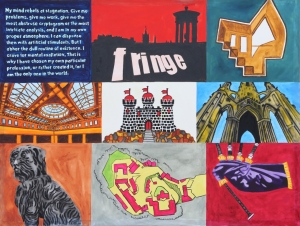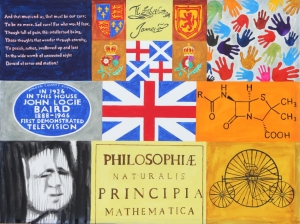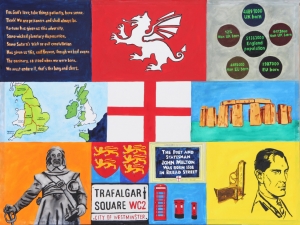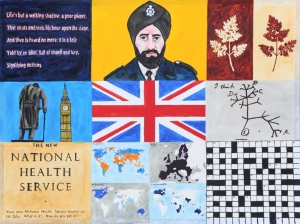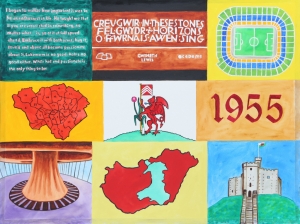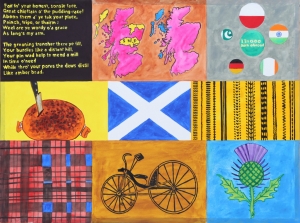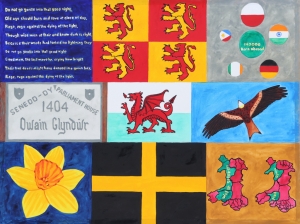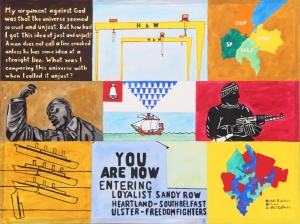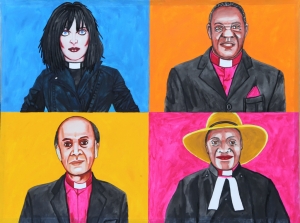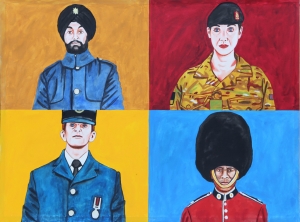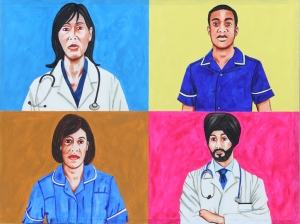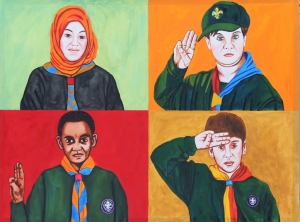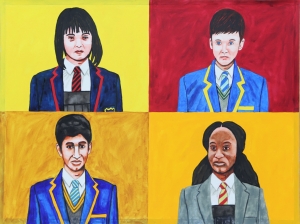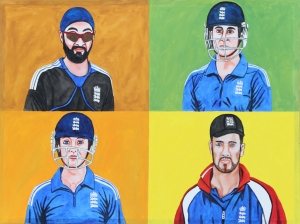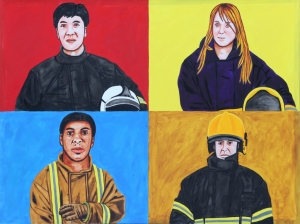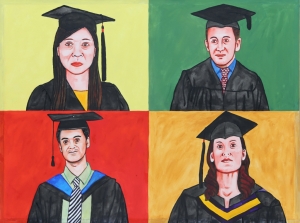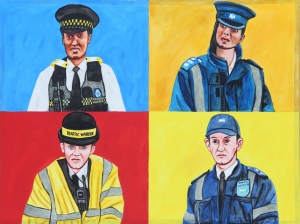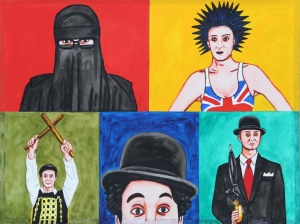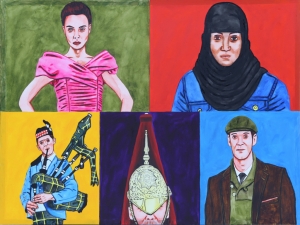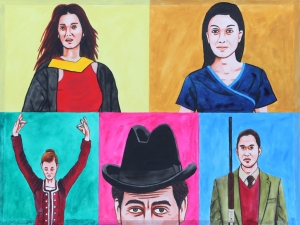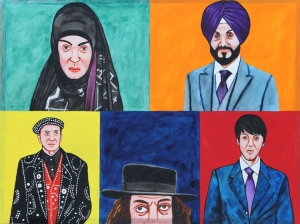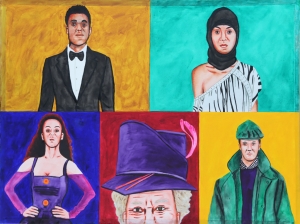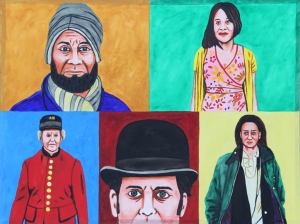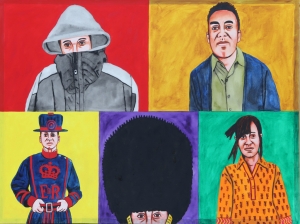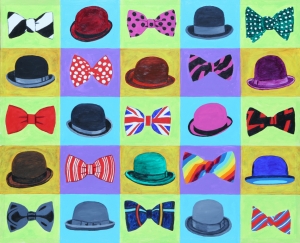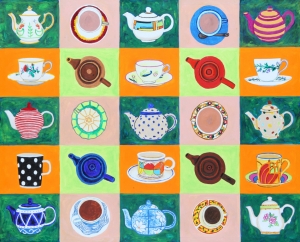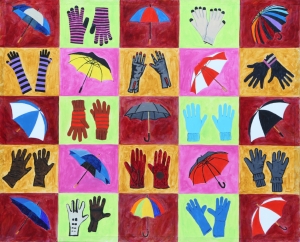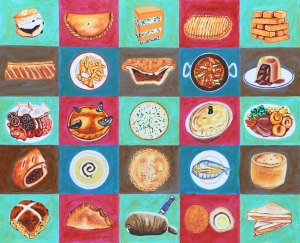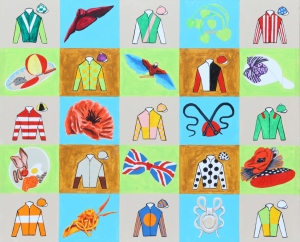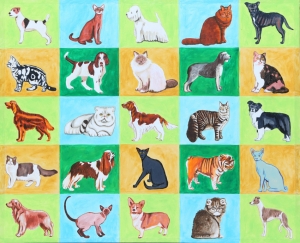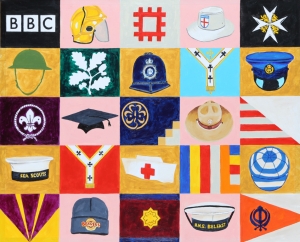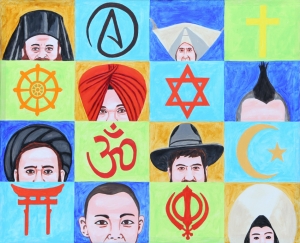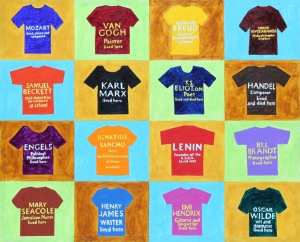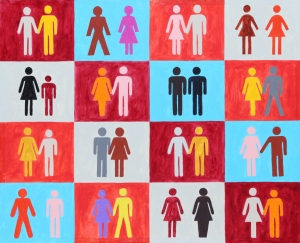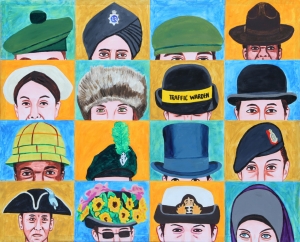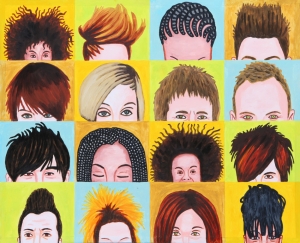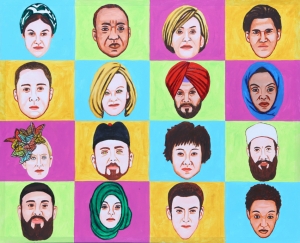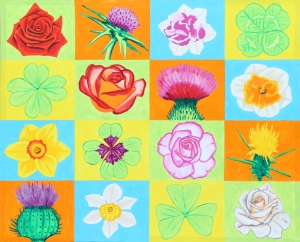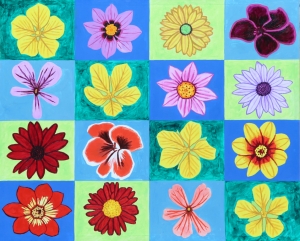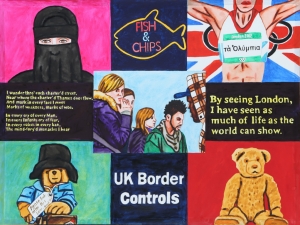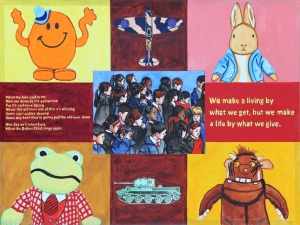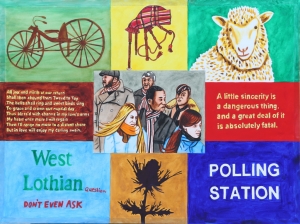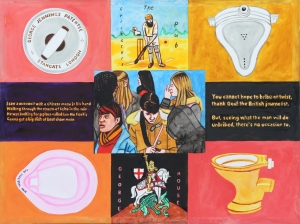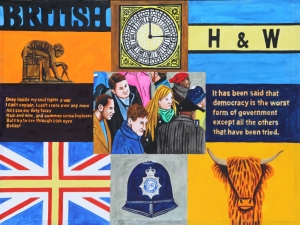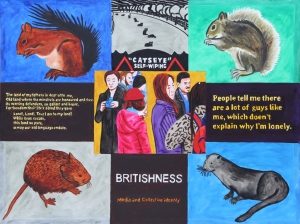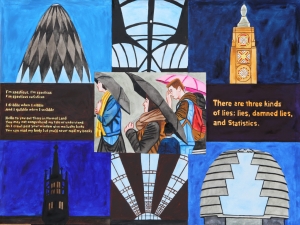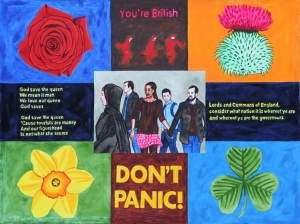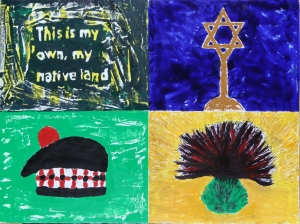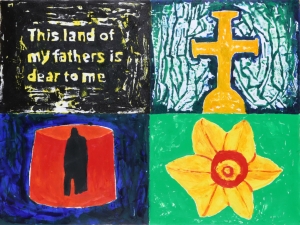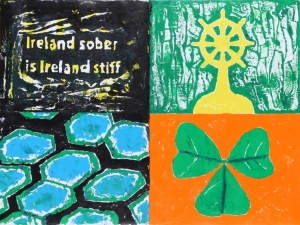 Click image to enlarge
Four Nations Capitals
Panayiotis Kalorkoti. Read the name, hear the speaking voice. How would you ever link the two, one ineffably Greek, the other unmistakably English? There is only one way: if you bear in mind that the man is British. You would certainly not have had that easy option fifty years ago. But now you will encounter such mystery mixes all the time. Tribal-scarred black faces combined with impeccable Oxbridge English accents; a cosy Glaswegian voice coming from a Sikh-turbaned head; a leading High Court barrister with a Chinese name and face. Once considered bizarre, such ideas now come close to the heart of Britishness. No wonder that Kalorkoti the artist (as well, obviously, as Kalorkoti the man) is fascinated by the idea and tries with considerable success to define it in his art. Define? Well, rather to evoke its will-o'-the-wisp transformations and transmigrations. That detail is clearly English. But next to it, that is surely Arab, or African, or Oriental. The cultural and ethnic melting-pot people speak of so glibly? Not in this vision, but rather separate-yet-together. Oh yes, inextricably together, today and tomorrow. And all the better for it.
Perhaps a long-time immigrant is best placed to analyse the essence of Britishness. A visitor will miss, or misinterpret, much; natives may be unable to look beyond the comfortable myths they have built up about their national characteristics.
With his Four Nations Capitals project, Panayiotis Kalorkoti makes a timely contribution to the current debates not only about immigration, assimilation and cultural identities, but also about nationalism and supra-nationalism as regards the countries that make up the United Kingdom. He arrived in the United Kingdom from Cyprus in 1966 at the age of nine, and has lived and worked in the North-East, London and Yorkshire. He has absorbed much and observed much, and this is his guide to what divides us and what unites us.
There is wit and wisdom in the pictures and in the choice of quotations that are woven into them. The full diversity of modern Britain is here, but so too are persisting 'national' characteristics. Innovation is balanced by tradition. There are comforting confirmations of what we might believe of ourselves, but also surprising insights. One surprise, to me at least, is how many uniforms we wear; it is not just the military and the police, but many more of us, from punks to priests, footballers to scouts, mortar boarded students to hoodies, bewigged barristers to burka-clad ladies, and denim-wearers everywhere, can be defined at least in part by dress and accessories.
The slyly naïve, lightly Pop Art, style of the watercolours, acrylics and the four monotypes that sum up his findings, is perfect for this portrait of a United Kingdom in flux.
Huon Mallalieu
I have known the work of Panayiotis Kalorkoti for a long time, ever since I first met him when I was Director of the National Portrait Gallery and very much respect the integrity with which he documents different aspects, and some of the stranger characteristics, of our national life.
In his inimitable way, Kalorkoti has managed to capture every aspect of our so-called 'British' way of life. The regularity and formality of the series belies the haphazard nature of our daily existence where we all rub along together.
Kathleen Soriano
Kalorkoti arrived in Britain from Cyprus at the age of eight, so is well placed to observe the issues of diversity which make up our national identity. His approach is to create a brightly coloured patchwork, a kaleidoscopic image of the fragments which woven together define the British nation.
Kalorkoti digs deep into traditional culture, he uses badges, uniforms and symbols to describe the national psyche. Bowler hats, bow ties and tea pots take their place alongside the Queen and other images of authority, the police, the army, doctors and the NHS. Cheek by jowl with these comforting traditional images are ranged issues of nationalism, ethnicity and immigration, Irish and Scottish separatism and all the races which make up our multi-cultural society are represented.
Within this diversity the boundaries hold like the boundaries of the images themselves. Britishness is observed impartially with wit and accuracy. Kalorkoti embraces his adopted nation - this is an optimistic portrait, the darker issues of a divided nation glossed over. We are beguiled, with bright colours and jewel like images and the promise of scones for tea.
Elspeth Bray
The artist is a double. I recognize him. Once - ten years ago - we had a sight of his watercolours of dancers, in a hard, but ephemera light and beauty. Then, now, he shows us a so-called calm and daily summary of reality.
The temper and the interest of making, the inevitability of the image....this all, proves the unquestionable other, who is impressive.
Frank Van den Broeck
What is really at issue here? On one level, Kalorkoti, gathers together iconic references to the things that are thought to denote 'Britishness', such as a cricket team, bagpipes, Tower Bridge and the Queen. But are these images being proposed uncritically as collectively agreed symbols and as foci for a single, unproblematic cluster of meanings?
The message coming through is that, although there exists a confusing and inevitable diversity in the ways one might understand 'Britishness', there exists equally a strong vision of harmony. I can't myself agree that there is such a harmony or mutual agreement; and Kalorkoti's pictures don't seem to allow for dissent or rebellion or not-wishing-to-belong. Along with knowledge of immigration from dozens of foreign countries, one should not overlook the fact that a good many Britons opt to live elsewhere in the world, rather than on this sceptred isle.
Artistic topics included in the 'Four Nations Capitals' project:
'Four Nations & Four Capitals - Innovations 1-10'
Zebra Crossing; Traffic Lights; Belisha Beacon; Trains, Paddington Station (Isambard Kingdom Brunel); Underground; Time (Railway Clock); London Olympics (1908, 1948, 2012); Mo Farah; Jessica Ennis; Kelly Holmes; Tiffany Porter; Television (John Logie Baird); Light Bulb (Joseph Wilson Swan); Telephone (Alexander Graham Bell); Computer (Alan Turin); Time Zone (John Harrison); Penny Black (Rowland Hill); World Wide Web (Tim Berners-Lee); Gravity & Dispersive Prism (Issac Newton); Clock (John Harrison); Siesmogrph (James Forbes); Sawing Machine (Thomas Saint); Penicillin (Alexander Fleming); Sports (Football, Cricket, Curling, Darts, Golf, Badminton, Billiards, Rounder, Shuttlecock; Hockey; Rugby; Snooker, Squash; Croquet, Tennis); Humour (John Cleese, Ronnie Barker, Ronnie Corbett, Stan Laurel, Eric Morecambe & Ernie Wise, Tommy Cooper etc); Police (History, Structure & Diversity); DNA & DNA Profiling (Alec Jeffreys); Concentrated Technology & Digital Motor (James Dyson); Hovercraft (Christopher Cockerell); Jet Engine (Frank Whittle); Penny Farthing (James Starley), Steam Engine (Evolution); Governor (James Watt); Text (Eric Idle, Eddie Izzard)
'Four Nations & Four Capitals - Nations & Capitals 1-10'
Scotland; England, Wales, Northern Ireland; Edinburgh; London; Cardiff; Belfast; Writing (William Shakespeare, Geoffrey Chaucer, John Milton, Robert Burns, Dylan Thomas, C.S. Lewis, Arthur Conan Doyle, Roald Dahl, William Blake, Seamus Heaney); John Logie Baird; James Bond; Celtic; Oliver Cromwell; NHS; Crossword; Photography; Winston Churchill; Charles Darwin; UK's World Influence; Iconic Monuments & Landmarks (Telephone Box, Post Box, Taxi, Underground, British Library, Theatre, Eros, Stations etc); Immigration; John Betjeman; GMT; Flags; Bicycle; Protestant & Catholic; H&W; Titanic
'Four Nations & Four Capitals - Society 1-10'
Diversity within the - Church of England; Police; Army; NHS; Scouts; School; Cricket; Fire Brigade; University; Traffic Wardens
'Four Nations & Four Capitals - Culture 1-10'
Morris Dance; Punk; Burka; Hijab; Charlie Chaplin; Pipes, Guard, Tradition; Tony Hancock; Diversity; Marty Feldman; Pearly King; The Queen; Tradition, Modern; John Cleese; Chelsea Pensioner (Woman); Welsh Dance; Irish Dance, Scottish Dance; Beefeater; Guard; Hats; Clothes
'Four Nations & Four Capitals - Customs 1-10'
British Hats; Institutional Hats & Symbols; Ties; Waistcoats; Shoes; British Pottery; Tea Pots & Cups; Umbrellas; Gloves; British Food (Pies, Cheese, Balti, Sandwich, Fish & Chips, Haggis, Fish Fingers, Spotted Dick, Scotch Egg, Full English Breakfast, Sunday Roast, Hot Cross Bun, Cornish Pasty, Melton Mowbray Pork Pie); Racing; Cats & Dogs; Afternoon Tea; Ascot, Balmoral, Deer Stalker, Bowler
'Four Nations & Four Capitals - Diversity 1-10'
Dolly the sheep; Religions (Christian, Buddhism, Shinto, Atheist, Hinduism, Islam, Sikh, Jewish); People from abroad who lived in UK; British Hats; Hair Styles; Ethnic British People; British Institutions, Flowers (British & Foreign); Ties; Waistcoats
'Four Nations & Four Capitals - Ethnicity 1-10'
Children; Mr. Men; Peter Rabbit; Toad; Gruffalo; Paddington Bear; Winnie the Pooh; Toys; Olympics, Fish & Chips, Immigration; Identity; Burka; Diversity; Text (William Blake, Samuel Johnson, Noel Coward, Sex Pistols, The Clash, William Gladstone, Simple Minds, Winston Churchill, Bernie Taupin, Ian Dury, Evan Jones; Benjamin Disraeli, Humbert Wolfe, Oscar Wilde); Faith; Magna Carta; Scotland (Pipes, West Lothian Question etc); Pubs; Toilets; Songs; Animals (Native & Immigrants); London Landmarks (Gherkin, OXO etc); Railway Stations; Cateye; Toilet (George Jennings, Thomas Twyford, Thomas Crapper); Four National Flowers; British Humour
'Four Nations & Four Capitals - National 1-4'
National Flowers (England, Scotland, Wales, Northern Ireland); Faith (Christian, Muslim, Jewish, Buddhist); Objects; Text (James Joyce, Walter Scott, Benjamin Disraeli, Evan Jones)